"Wishful recycling," or tossing items in the recycling bin that you hope are recyclable or think should be, causes contamination.
Contamination occurs when people place materials in the recycling bin that do not belong.
When this happens, items that could be recycled are disposed of as trash instead, as recycling processors have a difficult time sorting the trash out of the recycling.
Find out how YOU can help reduce Lancaster County's contamination rate by clicking here to learn more!!
East Lampeter Township is now accepting waste motor oil, hydraulic oil and cooking oil.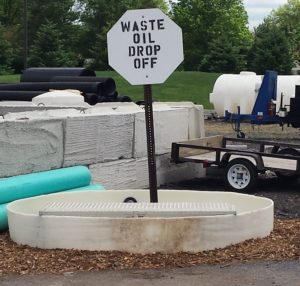 East Lampeter Township is now accepting waste motor oil, hydraulic oil and cooking oil at our Public Works Building behind the Township Office.
Look for the "WASTE OIL DROP OFF" sign in the Public Works parking lot.  Place your full containers in the toolbox that is stationed inside a spill containment unit. DO NOT empty your containers at the drop off location.  If you would like to have your containers returned to you, please put your name and telephone number on the container and we will notify you when you can pick it up. Thank you for your support of this new recycling initiative.
Recycling Ordinance No. 258 &  Recycle Resolution
All properties in the Township are required to dispose of their solid waste properly and recycle.  The Township issues licenses to haulers who are authorized to operate in East Lampeter and are required to provide recycling services.  Each property owner must contract with a licensed hauler for these services.  See below for a listing of haulers licensed to operate in East Lampeter Township.
Replacement recycling bins can be picked up at the Township office during regular business hours.  Recycling bins  are the property of the Township and are to remain at each residence.
East Lampeter Township is a mandated municipality, which means that we are required to recycle in the Township.  If you have any questions related to solid waste and/or recycling, contact the Township office.  If you would like additional information regarding this subject, please contact the Lancaster County Solid Waste Management Authority (LCSWMA) at  397-9968.
Recycling Required by Commercial Businesses
We remind all businesses in the Township that you are required to recycle certain items as mandated by State and Township ordinance. Those items include corrugated cardboard, high grade office paper, glass bottles and jars, steel and bimetal cans, and plastic items with a  #1 (PET) or #2 (HDPE). In addition, automotive repair shops should be recycling used motor oil and other vehicle fluids, tires and batteries.
The Township sends each business an annual request for total weights of items recycled. If a business uses a commercial hauler to pick up the recycled items, nothing is required. Simply return the form with the name of that hauler. The hauler will automatically report the weights through the County system.
If your business uses a private vendor or takes items to a recycling center, you must obtain a weight manifest from the vendor or center which lists and certifies the weights of each item recycled. Your establishment should designate an employee to keep a file of these manifests so they are readily available to prepare and return the annual report to the Township.
East Lampeter Township Trash Haulers
A & A Refuse
537 West Roseville Road
Lancaster, PA 17601
(717)291-2097
http://www.aarefuse.com
Cauler Containers Inc
245 Oak Bottom Road
Quarryville, PA 17566
(717) 806-0991

http://www.caulerwastedisposal.com
Eagle Disposal of PA Inc.
PO Box 288
East Earl, PA 17519
(717) 355-9560

http://www.eagledisposalofpa.com
Econ Refuse Service LLC
PO Box 124
Kirkwood, PA 17536
(717) 529-1292
http://econrefuse.com
Good's Disposal Services Inc.
4361 Oregon Pike
Ephrata, PA 17522
(717) 336-6385 or (717) 859-1879 or (717) 626-1055
http://www.goodsdisposalservice.com 
Waste Industries of PA LLC
230 Obie Road
Newmanstown, PA 17073
(717) 949-2363
http://wasteindustries.com/newmanstown
Republic Services (Commerical Hauling Only)
1555 River Road
Marietta, PA 17547
(717) 426-6423
http://www.republicservices.com/
Waste Management of Greater Lancaster
230 Wohlson Way
Lancaster, PA 17603
(717) 394-8641
https://www.wm.com/facility.jsp?fac=S04293&zip=17603&cat=1